We have launched the Reporting Exchange, a new global platform dedicated to sustainability reporting, providing information about environmental, social and governance reporting requirements and resources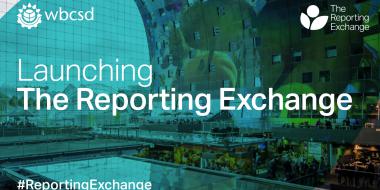 Last week we launched the Reporting Exchange, a new global platform dedicated to sustainability reporting, providing information about environmental, social and governance reporting requirements and resources. After almost three years, this project has evolved to be a living index of over 1700 provisions across 70 sectors and 60 countries. We encourage business reporters, academics and experts from different fields of reporting to join the community and contribute to making the reporting world clearer. 
Why is sustainability reporting complex?
In 2016 we published with ACCA "Lost in the right direction", a research paper which highlighted several issues that have arisen and confused the world of sustainability reporting. We stressed the importance of four particular issues:
Requests by multiple reporting requirement developers for the same type of information
Confusion on how sustainability reporting requirements relate to existing mainstream reporting
Reporting requirements seeking to fulfil many diverse objectives at once
Proliferation of reporting support-mechanisms that offer multiplying approaches to disclosure preparation
These are issues of multiplicity and repetition. They act to "dilute or impair the usefulness of information for readers," to quote the paper, "and may lead to distorted views of corporate performance, inaccurate valuation and different decision-making." These issues can therefore make corporate sustainability reporting less effective and become counterproductive, preventing investors and other stakeholders from making well-informed decisions for capital allocations. 
In the research paper, we identified six ways that could bring order to sustainability reporting:
Leveraging shared objectives between reporting requirement developers
Mapping the sustainability reporting landscape and agreeing its components
Addressing technical challenges of sustainability reporting
Linking, aligning and reciprocating reporting schemes
Agreeing stewardship of the landscape
Producing an international model sustainability reporting convention
Central to all the other routes of progress, however, was mapping the sustainability reporting landscape. How can we possibly link, align and reciprocate requirements or address the technical challenges that exist if we are unable to understand and navigate the sustainability reporting landscape? 
These are some of the issues we tried to solve by creating the Reporting Exchange. Using a lexicon that builds upon that sketched in the "Lost in the right direction" paper, we have categorized and summarized sustainability reporting requirements and resources from across the world. The Reporting Exchange showcases reporting requirements from over 60 countries, exceeding 70% of the world's population, which collectively represent over 90% of global GDP and more than 80% of annual CO2 emissions.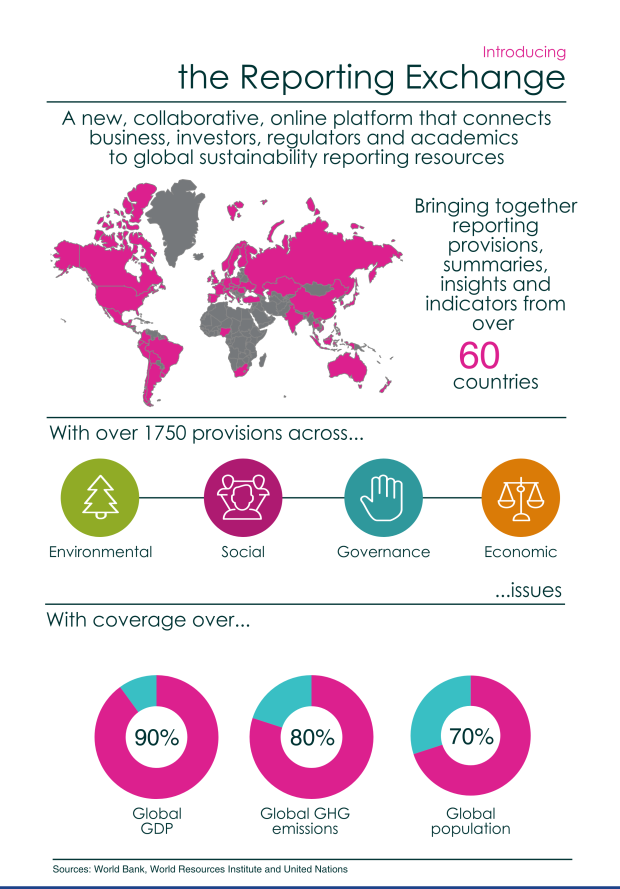 The system that has been developed to categorize the information provided on the platform allows us to analyze and compare the reporting requirements of countries without bias, no matter the countries' wealth, size, characteristics or geography. 
Our approach creates an equally inclusive environment for contributors and regulators, allowing the number of countries and provisions that are reported and connected on the Reporting Exchange to grow further. The platform was built around a collaborative method – the reason why it is called the Reporting Exchange – as we believe the best way to make it as effective as possible is to allow experts and real practitioners in the field to share their experience and knowledge. 
The platform is open to actors from across the fields of business, investment, regulation and academia, encouraging much-needed collaboration. As such, the Reporting Exchange helps all users (ourselves included) to effectively map sustainability reporting by highlighting and showcasing the similarities and differences within and across geographical and sectorial borders. 
A community of reporters
The Reporting Exchange is not a simple library of reporting regulations. The platform hosts summaries of national reporting practices, creates an index of research and thought leadership on specific sustainability issues, and provides details about reporting provisions with key indicators. 
The platform illustrates how the reporting provisions – both requirements and resources – link, align and reciprocate. This helps users have a better understanding of what, where and how to report sustainability information, making global reporting more streamlined and effective to reporters, investors and other stakeholders.
We hope that the Reporting Exchange will create an environment for all users to engage in the necessary harmonization of sustainability reporting. The Reporting Exchange is but the basis for progress, a starting point. We want to encourage thought leadership, research and collaboration, beyond the traditional barriers that the corporate sector faces. We like to think of this initiative as a catalyst for change in the sustainability reporting landscape – bringing together the disparate and confused to create alignment and efficiency, and so ensure we are no longer lost in the right direction.
For more information, visit www.reportingexchange.com or get in touch with hello@reportingexchange.com to understand more about how to become a contributor or a moderator. The initiative is led by WBCSD, in collaboration with CDSB and Ecodesk.