Climate change is a human-induced phenomenon that has been etched in the 2015 Paris Agreement. Businesses are rolling out a barrage of actions to reduce emissions and conform to climate-risk disclosure regulations. With corporates grappling to meet their net-zero targets, new talk of nature-related risk disclosures, such as biodiversity, may seem overwhelming.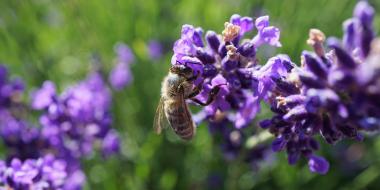 But biodiversity loss is as detrimental as climate change and the two are entwined. One can cause or mitigate the other. Healthy ecosystems such as forests help absorb carbon emissions and reduce global warming, for example, while global temperature rise makes forests vulnerable to fires that could destroy them. Factor in the current defective relationship that humans have with the ecosystem, and both climate change and biodiversity loss spiral out of control.
We are transforming natural habitats into cities, farms, factories, mines, dumpsites and desecrating the ocean through overfishing, drilling, plastic pollution and damaging coral reefs. The loss of biodiversity worldwide is unprecedented. If there is an indicator for the health of the world's biodiversity, it is the IUCN Red List. This is a comprehensive list of threatened species and their status.
Currently, more than 37,400 species are threatened with extinction, which is 28 per cent of all species assessed by IUCN to be at risk (134,425). But without action, if we include the non-assessed species, an estimated 1 million of the 8.7 million flora and fauna on earth are at risk of extinction, a rate hundreds of times higher than natural trends. Threat of extinction is known for motivating politicians to take regulatory action, which should send alarm bells to corporates. What biodiversity-related risks, opportunities and characteristics can corporates therefore not afford to ignore?
Biodiversity-related risks faced by corporates
Businesses are dependent on biodiversity as much as humans. Loss of biodiversity threatens raw materials (food and other natural materials) and disrupts supply chains. Businesses are also dependent on ecosystem services underpinned by biodiversity, such as maintaining water quality, and providing natural protection from storms and floods. The World Economic Forum ranked biodiversity loss and ecosystem collapse as one of the top five risks for the coming 10 years, indicating that corporates and investors cannot afford to wait to address these risks.
The Intergovernmental Panel on Biodiversity and Ecosystem Services estimates that 75 per cent of food crops are dependent on natural pollinators and the 5.6 gigatons of carbon sequestered each year by terrestrial and marine ecosystems. Food industries depend on healthy soil productivity, pollination, pest control, water quality and water retention. These terrestrial and marine ecosystems protect from risks such as erosion, storms, flooding and sea level rise.
Other industries like tourism, mining, cosmetics and medicines are similarly impacted. Many other businesses indirectly depend on biodiversity. As biodiversity is an input to the supply chain, a constant flow of the resource at low cost determines how competitive a business will be.
Reputational risk should not be underestimated. Appearing to damage ecosystems without mitigating, offsetting or restorative action will attract confrontation from stakeholders, regulatory action and brand degradation.
Opportunities to lead biodiversity action
As corporates are already championing the climate change battle through harnessing carbon emissions, they find themselves in a unique position to protect biodiversity. There is a strong business case for integrating biodiversity concerns into core management thinking. Through crafting strategies that ensure business activities stop negative impacts to biodiversity, companies can achieve environmental net gain.
Addressing biodiversity issues both mitigates risks and offers new opportunities for companies to improve performance and sustainability. Checking that your supply chain draws natural resources from certified sustainable sources and securing accreditation as an environment friendly business, for example, limits risks and improves company's ethical appeal. This promises supply chain continuity. Most important, with a growing call from investors for natural capital disclosure, sustainable businesses are more likely to be financed than others.
Biodiversity characteristics to consider
CDSB's upcoming Biodiversity Guidance, to be launched on 30 November, 2021, aims to support organisations in identifying and assessing biodiversity-related financial information for mainstream reporting, including risks and opportunities. It builds on the existing Framework for Environmental and Climate Change Information, an Accounting for Climate guidance and another upcoming supplementary Water Guidance, allowing companies to assess climate and nature-related financial information for comprehensive environment mainstream reporting.
As biodiversity is essential for businesses, biodiversity-related risks (damages for organisations' operations, reputational, legal and financial performance) should be reflected in the financial statements and notes. The Biodiversity Guidance recommends that when interacting with biodiversity, organisations should consider six key characteristics: spatial dimension, time dimension, multi-faceted nature, interconnected nature, engagement and collaboration, and methodologies.
Spatial dimension relates to the geographical variability and specificity of both biodiversity and the related dependencies, impacts, risks and opportunities. For example, the biodiversity status in an area may be a direct result of business activities of the company in that vicinity or their value chain. There are however transboundary issues (migratory species, for example) that could expand the geographic dimension of the business activities' impact.  As the area of impact expands, this could attract different regulatory concerns or penalties along the way. Corporates therefore need to be alert to how biodiversity poses risk within a spatial dimension and identify priority risk areas through risk assessments.
Biodiversity typically varies with seasons and a time dimension therefore needs to be factored in. There are possible lags between loss of biodiversity resulting from business activities that can make it difficult to predict the future pressures and impacts in some instances. Building on nesting beaches, for example, can affect turtles' ability to nest and feed, and prevent hatchlings from surviving. The impact could become evident in one breeding cycle, in this instance. Destroying mangroves on the other hand can result in soil erosion, impacts that may materialise fully decades later.
The multifaceted nature of biodiversity means varied scales, issues and values need to be considered when reporting. Varied scales could be consideration of the diversity between species and of ecosystems, issues may include species extinction and ecological integrity loss, and values are those that can be obtained from agricultural products, for example. All these perspectives are necessary when analysing biodiversity-related risks.
Biodiversity and its high interconnected nature with other environmental and socio-economic issues, means land use, forestry, pollution, water, climate change, etc., also need to also be considered. Companies therefore need to detail their dependencies and impacts on biodiversity in the context of their wider natural capital dependencies. In a situation where climate change degrades soil fertility, harms ecosystems and reduces freshwater resources, for example, contextualisation offers organisations prospects to explore the risks and opportunities of this multifaceted environmental issue. A company has then the opportunity to explain to investors its place in the complex web.  
In engagement and collaboration, external stakeholders such as farmers, regulators, financial institutions, and civil societies, may also have specific dependencies on the biodiversity within a given area. As biodiversity is shared with local stakeholders, overexploitation by one party has impacts on other local parties. Therefore, engagement with stakeholders both at the operational and value chain level, and participation in collaborative actions, is crucial for effective biodiversity management.
There are many metrics and tools available to biodiversity measurement and this creates methodological challenges. With no unique agreed assessments methods, there is a need for harmonisation in this area. Because biodiversity offers many indirect benefits, assessing dependencies is particularly challenging.
How then does the upcoming Biodiversity Guidance help?
Given that assessing the materiality of biodiversity to a specific organisation can be difficult, CDSB's upcoming Biodiversity Guidance prepares companies for assessments that understand and prioritise biodiversity-related issues and elements, and explains how to disclose results within the mainstream report. It makes biodiversity disclosure manageable despite the ecological complexities, whilst ensuring that results effectively contribute to the management of biodiversity-related financial risks and opportunities.
Join the discussion on 30 November, 2021, when the Biodiversity Guidance is launched.
Written by CDSB's Enock Chinyenze, Senior Communications Executive (enock.chinyenze@cdsb.net); Laura Clavey, Technical Manager (laura.clavey@cdsb.net); and Francesca Recanati, Environmental Specialist (francesca.recanati@cdsb.net).