CDSB launched consultation inviting comment on the second and final draft of its reporting framework.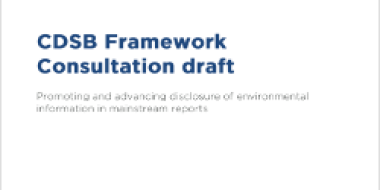 The original CDSB Framework focussed on the risks and opportunities that climate change presents to companies' strategy, financial performance and condition. In response to developments in environmental and corporate reporting, the CDSB Framework has been updated to provide guidance on reporting environmental information.
When the CDSB Framework is launched in March 2015, it will help companies prepare and present environmental information in mainstream corporate reports in order to provide robust and comparable information to a company's current and potential shareholders. The CDSB Framework is also aligned and can support companies required to comply with the requirements of the EU Non-Financial Reporting Directive.
The CDSB Framework adopts relevant principles from existing reporting standards and practices with which business is already familiar, standardizing reporting of environmental information through collaboration and by identifying and coalescing around the most widely shared and tested reporting approaches that are emerging around the world.
The original CDSB Climate Change Reporting Framework was released in September 2010 and has been warmly received as non-financial reporting best practice by companies, investors and regulators across the world.
View the consultation draft from www.cdsb.net/consultation. The deadline for responses is the 14th December 2014.
This project is made possible with the generous support of the Velux Foundations.