After interning with CDSB for 5 months, Diva Shah shares her experience and some of the things future interns can expect.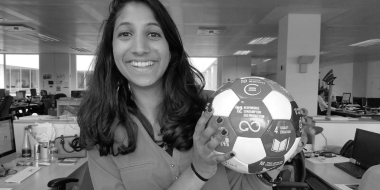 In January of this year, 6 months had passed since my graduation from university and I was still without a job. That month I had just got back from Kenya and found myself determined to find some work. Fast-forward to now and I've interned at CDSB for 5 months, contributed to a variety of research and projects, gained lots of experience and to top it all, successfully managed to bag a graduate job as a result.  
Honestly speaking, I don't think I could have asked for a better place to well and truly gain experience, especially in a field that related to what I studied at university – BSc Sustainability and Environmental Management. I've gotten the chance to gain a true insight into the world of reporting and the challenges and opportunities in communicating environmental and natural capital information as well touching upon environmental policy, research and communications. 
In addition, I've really been able to get the chance to develop my skills. Working at CDSB you'll never really know what kind of work you'll be getting up to but it will most certainly be a broad range. In the 5 months that I've worked at CDSB, I have: 
tested my creative skills designing an infographic;
developed my analytical skills analyzing through company annual reports;
enhanced my problem solving skills sorting through CDP data to find out which companies use the CDSB Framework; and
improved my communicative skills by writing blogs (which I had never done before)  
If you are thinking of interning here, be prepared for LOTS of acronyms, a fast paced work environment, lots of social media posts, getting the branding right (I'll never forget the colour rubine red) and really just doing what ever gets thrown at you. 
Overall my experience has been nothing but wonderful and the CDSB team are simply amazing and super nice people. Since the beginning I've been in awe at the range of projects that CDSB work on, the people and organisations they work with and the impact this small but forceful organization has. Thank you for continuously inspiring and motivating me, I will definitely miss working at CDSB.
Follow Diva on twitter @DivaDShah.