The Climate Guidance has been produced by CDSB to assist companies in the disclosure of material climate-related information in the mainstream report.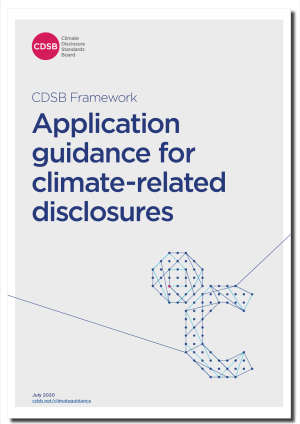 Despite much progress in climate-related disclosure, many contend that more work is needed to ensure that reporting on material climate-related issues is of sufficient quality and detail to support decision-making by investors and others. The current standard of mainstream reporting on climate risks and opportunities means that there is an information deficit for investors and other decision-makers. This shortfall in high quality, decision-useful material climate information means that investors are unable to make the capital allocations that can drive change across economies and societies.
The Climate Guidance is designed to complement the CDSB Framework and other frameworks, codes and recommendations that are aligned with some or all of the requirements of the CDSB Framework. This guidance offers companies a means of developing their reporting practices and ensuring that investors are receiving the material climate-related information needed for efficient and effective capital allocation to drive the transition to a just, low-carbon economy.
The focus of the guidance is on the first six reporting requirements of the CDSB Framework. These reporting requirements set out the key content elements for reporting material environmental information in the mainstream report:
• REQ-01 Governance
• REQ-02 Management's environmental policies, strategies and targets
• REQ-03 Risks and opportunities
• REQ-04 Sources of environmental impact
• REQ-05 Performance and comparative analysis
• REQ-06 Outlook
For each of these reporting requirements, the Climate Guidance provides:
A checklist for making effective climate disclosures;
Detailed reporting suggestions and guidance to complement the CDSB reporting requirement in relation to climate issues;
A selection of further useful resources to assist companies in developing their mainstream climate reporting; and
Explained examples of good practice in mainstream climate reporting.
The Climate Guidance also offers some further important considerations for companies in making mainstream climate disclosures, covering aspects of the reporting principles and remaining requirements of the CDSB Framework. In addition, the Climate Guidance provides an overview of the significance of climate change to business, explaining the importance of physical and transition risks, and highlighting the key and unique characteristics of the climate system and their importance to corporate reporting. Finally, the Appendices to the Climate Guidance provides a mapping of the CDSB Framework to the TCFD Recommendations and a list of additional CDSB resources for preparing effective climate disclosures.
Download the guidance:
Print version | Online version
---
With the contribution of the LIFE Programme of the European Union. 

The content of this page is the sole responsibility of the author and can under no circumstances be regarded as reflecting the position of the European Union.

---

      
This publication is funded in part by the Gordon and Betty Moore Foundation.