Friday 12 July 2013. The London Stock Exchange hosted, with CDP, a practical workshop on the forthcoming UK regulations on GHG emissions. Very timely, as the new UK regulations were approved by parliament on 17th July.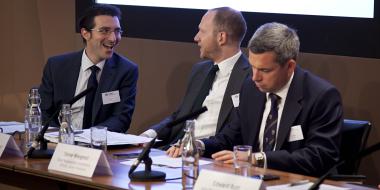 The packed audience comprised mainly of the three main groups involved in preparing a company's annual report – finance directors, company secretaries and sustainability professionals.
Andrew Walmsley, Head of Primary Markets at the London Stock Exchange made everyone welcome with a key message being the importance of moving beyond compliance.
The day was comprised of three sessions:
Part 1: Compliance in context.  The new regulations were introduced and explained by Mark Jackson (UK government department of Business Innovation and Skills).  Andrea Smith from CDP and seconded to DEFRA) described the GHG emission regulations in detail.  Patrick Crawford introduced CDSB and the Climate Change Reporting Framework. CDSB's Reporting Framework is one means of complying with the new regulations.
Part 2: Achieving Compliance consisted of three sessions prepared by leading practitioners.  Workshop 1, hosted by Carbon Clear, Future Perfect and Verco discussed how to formulate a company's approach to measuring and reporting.  Worksop 2, hosted by Credit360 and PE International explained how to streamline the process of measuring and reporting GHG emissions.  Whilst workshop 3, hosted by Grant Thornton was an interactive session to understand what mandatory GHG reporting means from the perspective of regulatory submissions and accountancy and assurance practices.  Coincidentally these three workshops correspond to the three steps used by CDSB's Reporting Framework – Determination, deciding what to report; Preparation, gathering clear, consistent and complete information and Presentation, ensuring disclosure is clear.
Part 3: Beyond compliance and added value.  The panel was led by David Harris of FTSE, and examined why climate change is a 'beyond compliance issue'.  Steve Waygood from Aviva Investors and Daniel Ingram from BT Pension Scheme explained the value of this non-financial information in their investment plans.  From the corporate perspective Edward Butt, Tate & Lyle and James Whittingham from TUI Travel explained the value of measuring emissions to provide the facts to drive cost optimisation and prepare themselves for a sustainable future.  The CDP process was seen as an important part in gathering the right information and asking the material questions.  Compliance is seen as a vital first step but moving beyond compliance creates value for companies and investors.