Investor network concludes that SEC's commitment to facilitating adequate climate disclosure does not reflect the increasing risks and opportunities posed by climate change for investors.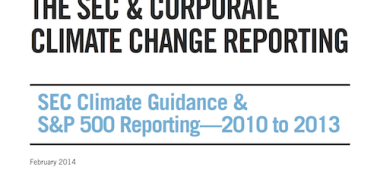 The new report by Ceres, "Cool Response: The SEC and Corporate Climate Change Reporting" examines the state of the Securities and Exchange Commission (SEC's) climate disclosure guidance and associated SEC comment letters. Recommendations are made for both SEC's improved implementation and companies' compliance with disclosure guidelines. 
An important recommendation made to organisations is to be specific in their discussion of the risks and opportunities affecting assets and operations. Here, CDSB's Framework is recommended as; "focused on reporting how climate change affects company's financial performance," and an important tool to supplement the SEC's guidance.
"For disclosing climate change information in SEC filings, we recommend companies use the Climate Disclosure Standards Board's (CDSB) Climate Change Reporting Framework to supplement the SEC's Guidance. The Framework, which was designed to elicit climate change-related information of value to investors in mainstream financial reports, is focused on reporting how climate change affects a company's financial performance." 
CDSB also works with the Sustainability Accounting Standards Board (SASB) that develops sector-specific sustainability KPIs for mandatory filings to the SEC, such as the Form 10-K and 20-F.