CDSB has been shortlisted in the public sector and third sector category which recognises those organisations that are part of a government department or local authority, charities or not-for-profit organisations.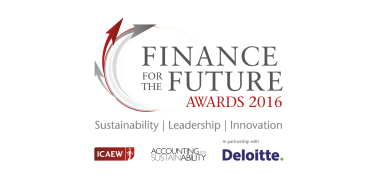 The Finance for the Future Awards celebrate and recognise the role of the finance function within organisations, and the wider finance community, in helping to build resilient organisations through embedding environmental and broader social issues into their decision making. Since the inaugural awards in 2012, they have continued to grow and this year sees the addition of two new categories. These include the awards for communicating integrated thinking and investing and financing. 2015 winners included Scottish Hydro Electric Transmission, Carbon Tracker Initiative and Sussex Community NHS Trust.
CDSB develops a framework that sets out an approach for reporting environmental information & natural capital in mainstream reports, such as the annual report or integrated report. The goal of the CDSB Framework is to contribute to more sustainable economic and environmental systems by advancing the global reporting model to inspire confidence in mainstream reporting of natural capital, as well as ensuring that markets are fair and transparent and take account of environmental externalities.
Mardi McBrien, Managing Director of CDSB said: "We are thrilled to be shortlisted for the Finance for the Future Awards. It is now more important than ever to provide clear, consistent and comparable information to build resilient financial flows. The CDSB Framework is a tool designed to help companies report climate change and natural capital information with the same rigour as financial information, thus improving the flow of capital to support the evolution to sustainable capital markets. This nomination recognises the importance of the accounting profession to be a catalyst for this evolution."
Richard Spencer, Head of Sustainability at ICAEW said: "These finalists have made the grade because their finance function has showed tremendous dedication to addressing the serious environmental and social challenges we face. They have demonstrated that they not only understand the critical need for sustainability to be embedded at the heart of their operations, but how finance can lead the way in integrating this across all levels of their business. Transformational change will only come by changing the way that we view and do business, and these are the companies that are leading the way."
The winners will be announced in London at an awards ceremony on 13 October 2016.