CDSB has released a Working Paper entitled "The Case for Consistency in Corporate Climate Change-Related Reporting" to coincide with the Rio+20 Conference and the release of the OECD Working Paper, "Stocktaking of Domestic Greenhouse Gas Emissions Schemes". The Working Papers support and advance inter-agency project work by CDSB, the GRI, OECD and UNCTAD to examine consistency in climate change-related reporting.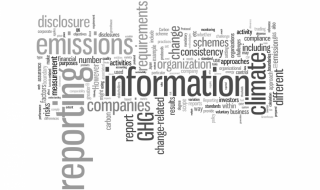 Various countries are supporting proposals, to be finalized at the Rio+20 conference, for companies worldwide to report on their environmental strategies and performance. CDSB's Working Paper offers inputs into discussions on corporate sustainability reporting at and after the Rio+20 Conference by providing evidence on current climate change-related reporting requirements and corporate responses to them. As one of the most advanced areas of non-financial disclosure, the way in which climate change-related reporting requirements and practices have developed offers insights into other areas of sustainability reporting.
The Working Paper, which is part of CDSB's ongoing work on consistency in climate change-related reporting, finds that although there is evidence of variations between the reporting schemes that have emerged against different policy backgrounds, schemes share some fundamental characteristics reflecting the similar policy objectives they are designed to serve, (e.g.: emission reductions, achievement of national targets and low-carbon strategies, etc). The evolution of regulatory frameworks has formalized aspects of climate change-related disclosure and some of the infrastructure is in place or developing fast to ensure that essential information reaches policy makers and markets and companies are building capacity to make climate change-related disclosures. Non-governmental organizations, such as CDP and GRI and voluntary standards such as the GHG Protocol and its programs around the world have also done much to build capacity, and encourage and provide the structural architecture for climate change-related disclosure.
Common features of national and regional climate disclosure approaches provide a strong basis from which further consistency in reporting could develop over time. CDSB's Working Paper examines some of the challenges that are likely to be encountered en route to greater consistency and CDSB's ongoing work plan seeks to address those challenges.
Interested parties wait with hopeful expectation of conclusions from the Rio +20 Conference that will support activities to encourage greater consistency of approach to climate change-related disclosure.