CDSB's Technical Working Group member Dr. Delphine Gibassier discusses the need to redefine Chief Financial Officers to Chief Value Officers to reflect the growing demand for sustainability accounting and integrated thinking.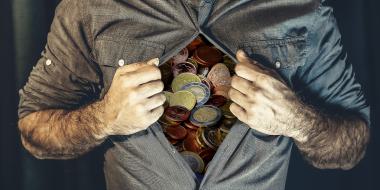 The finance profession, and more specifically Chief Financial Officers have been more and more involved in corporate sustainability since the arrival of integrated reporting. Once dedicated to the research and development or corporate sustainability departments, sustainability is moving into the accounting departments, where professionals already have the skills and competencies to address sustainability matters. 
Accounting for sustainable development seems to have become the missing link to improve companies' sustainability performance. Sustainability accounting enables companies to focus on creating value over the long term, respecting planet boundaries and social foundations. 
More and more companies are creating sustainable development finance teams and innovate to the extent of their value creation. Tomorrow's world will require a 360-degree outlook, which is not the view of today's typical finance function. The move from mono-capitalism to multi-capitalism is a strategic issue, and is almost seen as mandatory nowadays given the increasing demand for purpose-driven companies to reflect their role within society.
What is a "Chief Value Officer"?
In the framework outlined above, financial specialists are clearly identified as change-makers, hence the need to redefine the Chief Financial Officer as a Chief Value Officer. As an expert in sustainability accounting, the Chief Value Officer (CVO) integrates all value creation of the company with a multi-capital vision. They play a key role in the strategic success of all organisations thinking with a long-term perspective. According to the IIRC (International Integrated Reporting Council, November 2019) « the CVO role must ensure that all relevant aspects of value creation and destruction are accounted for and communicated to boards, managements and external stakeholders ». Priorities have therefore changed for financial professionals: they are now more oriented toward improving information quality for investors and stakeholders and promoting extra-financial criteria. 
In order to make this shift from CFO to CVO, financial professionals will need to address areas where their skills and competencies should be enhanced to ensure they are able to adequately measure and communicate the value creation of their company. In order to make them visionary experts and change makers within their organisations, financial specialists need to develop technical as well as management skills that enable them to embed sustainability into their roles. This requires a new strategic way of thinking in multi-capital accounting practices that demonstrates responsible leadership.
Other areas of considerations are:
Being a sustainable development expert and a business partner to understand and integrate environmental limits and sustainable development targets into organisations strategy; 
Acquiring strategic thinking that is forward looking to understand and master the effects of technology on multi-capital accountancy, and have an international, strategic and political vision of multi-capital accountancy methods; 
Being key contributor to business strategy considering the value, control, reporting and audit of strategic capital; and
Being an architect of and force for change to accompany the ecological and social transition of business models. 
Rethinking education 
There are a number of initiatives that have emerged in this space that considers the role of the CFO in the journey towards sustainable development. In order to support organisations of all sizes and financial experts in this transition, and to provide  financial professionals with the skills they need, Audencia have launched the Executive MBA Chief Value Officer. As a worldwide pioneer in this field, this is the first MBA dedicated to the transformation of the measurement control and audit profession to the multi-capital accounting and the only MBA in the world combining integrated thinking, value creation, responsible strategic leadership, all with an international dimension.
For 18 months, participants will explore participative and experiential learning methods, from face-to-face sessions in Paris to online courses. The course is designed with high-quality teaching, practical applications and real case studies from business organisations that punctuate the course and focus on the practical application of multi-capital accounting approaches. 
For more information about the program structure or the admission process please contact Audencia as follows: mcristy@audencia.com or register through the website. 
In addition, our webinar (hosted by Delphine Gibassier, Academic Director) introducing the executive MBA Chief Value Officer is still available via the following link.