This programme provides insights, feedback and practical support to help companies improve their reporting practices, in line with the TCFD recommendations and regulatory requirements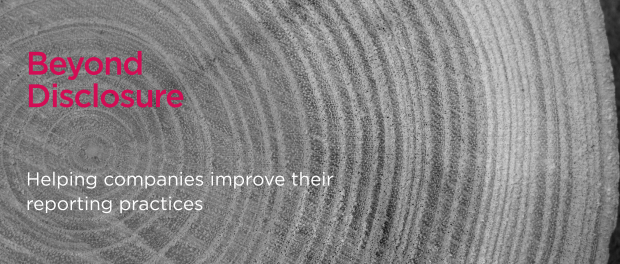 With the release of the recommendations of the Task Force on Climate-related Financial Disclosures (TCFD) and the transposition into law of the EU Non-Financial Reporting Directive, a growing number of investors and stakeholders are demanding more transparency and better-quality reporting of environmental and climate change information. Companies are now being asked to disclose what the risks and opportunities of moving to a low-carbon economy are in their mainstream reports. 
That's why CDSB has developed Beyond Disclosure, a programme that provides companies with the support and feedback they need to meet the TCFD recommendations. It helps them deliver consistent and meaningful climate change information in their mainstream reports by reviewing their reporting approach against the CDSB Framework and the TCFD recommendations, while encouraging and recognising best practice in reporting.
Why work with CDSB?
For the past ten years, the Climate Disclosure Standards Board has been driving the future of environmental reporting. Having developed the Climate Change Reporting Framework and the CDSB Framework for reporting environmental information, we can help companies apply the rigour of international financial reporting principles to integrate climate information into a company's annual report.
What can companies achieve with the programme?
Companies that take part in the programme will:
Receive a comprehensive review of their current mainstream reporting approach against best practice and requirements from the CDSB Framework and TCFD recommendations;
Be better positioned to provide clear and material information on their climate and environmental performance to their investors and stakeholders;
Be better equipped for regulatory compliance as new policies or voluntary guidelines for environmental and climate disclosure develop;
Receive practical support on how to use the CDSB Framework to comply with regulatory requirements as well as investor and stakeholder requests;
Gain insights into the latest developments in global non-financial reporting practices;
Stand out in a changing and competitive marketplace.
Who is the programme for?
Beyond Disclosure is aimed at supporting the work of Finance, Compliance, Risk and Sustainability functions and the members of your team who are involved in the preparation of your annual report, 10-K filing or integrated report.
How does it work?

Through a few simple stages, we will work with your company to develop better reporting practices that are useful for your investors and are compliant with mainstream reporting requirements. The aim will be to produce relevant and decision-useful information to investors and other stakeholders.
Report review
Our team will review your reporting strategy in the context of the mainstream report, with reference to sustainability reports and CDP responses. We will highlight areas of conformance against the TCFD recommendations and provide a gap analysis that can help you improve your reporting.
Interview
Our team will interview stakeholders from relevant business departments (including Finance, Internal Audit, Investor Relations, Risk and Sustainability) to discuss reporting strategy, reporting processes, internal controls, management approach, systems and overall coherence of reporting;
Feedback
Our team will provide feedback on the outputs of the first two phases, including gap analysis, with a series of practical next steps to fully integrate the results of the programme in your company's reporting using the CDSB Framework;
Support
We will work to highlight your progress by providing access to thought leadership, events and speaking opportunities. Additional tailored services are available to help your company explore specific issues regarding climate and non-financial reporting
How to join
Get in touch with us by emailing to find out more.