CDSB invites public comment on its draft Reporting Framework as it expands beyond climate change to include information on natural capital, namely forest risk commodities and water.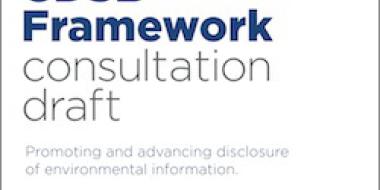 View consultation page here.
CDSB's expanded Framework, out for consultation today, is designed to help organizations prepare and present environmental information in mainstream reports for the benefit of investors. Information prepared in accordance with the CDSB Framework is designed to allow investors to assess the relationship between specific environmental matters and the organization's strategy, performance and prospects. Through the provision of robust environmental information, CDSB hopes to encourage analysis and decision-making by investors that recognizes the dependence of economic and financial stability on a stable and healthy environment.
Mardi McBrien, Managing Director of CDSB says "Natural resources on which society, the environment and business depend are being lost or degraded at an unprecedented rate. The business world needs to scale up its actions to recognise and respond to the associated business risks and opportunities."
CDSB seeks to standardize reporting of environmental information through collaboration and by identifying and coalescing around the most widely shared and tested reporting approaches that are emerging around the world. CDSB therefore adopts relevant principles from existing reporting standards and practices with which business is already familiar.
View the consultation draft at www.cdsb.net/consultation. The deadline for responses is the 19th May 2014.
Join a briefing webinar to find out more about the consultation.
CDSB's Climate Change Reporting Framework, which this consultation builds on the success of, was released in September 2010 and has been warmly received as non-financial reporting best practice by companies, investors and regulators across the world.
This project is made possible with the generous support of the Velux Foundations.
*The expansion of CDSB's reporting framework will now cover 79% of natural capital . The numbers are based on further analysis of the findings in 'Natural Capital at Risk – the top 100 externalities of business', by Trucost and commissioned by the Natural Capital Coalition (formerly TEEB for Business). Environmental externality costs can be broken down: greenhouse gas emissions 38%, water 25% and land use 24%, of which 16% is directly related to forests risk commodities.